Tuesday, July 22, 2014
Hamas TV: Dead Gaza civilians privileged to have died this way
"These people [Gaza civilians killed in war]
- their time had come, and they were martyred.
They have gained [Paradise]...
Don't be disturbed by these images...
He who is Martyred doesn't feel...
His soul has ascended to Allah."
[Al-Aqsa TV (Hamas), July 20, 2014]
by Itamar Marcus and Nan Jacques Zilberdik
Hamas is trying to both justify and console Gaza's population over the many civilian deaths it has caused in the Gaza war. While broadcasting gruesome pictures of dead civilians, including children, a TV host explained that since in Islam a person's time of death is predetermined by Allah, the people who have been killed in the recent fighting have actually "gained": They would have died now anyway, but now they will receive the rewards of Martyrdom - Shahada - in Paradise.
Click to view
The glorification of Martyrdom both justifies the Hamas activities that led to these deaths and also may console the population. In addition, this message may persuade civilians to continue endangering their lives by protecting Hamas terrorists and their terror infrastructure with their bodies.
Recenly, PMW reported on a sermon by the former Palestinian Authority Minister of Religious Affairs, Mahmoud Al-Habbash, who likewise glorified Martyrdom death as something to which Palestinians should aspire.
The following are the words of the Hamas TV host, referring to the civilians who died in the Gaza war as "having gained," followed by the words of the former Palestinian Authority Minister of Religious Affairs, who explains the ideology of Martyrdom in Islam.
Hamas TV: Dead Gaza civilians gained Paradise: "The enemy has killed us and we are Martyrs"
Hamas TV host:
"Every soul has its time. These people - their time had come, and they were Martyred (i.e., Gaza civilians killed in war). They have gained [Paradise]. They have nothing in this world, especially in the Gaza Strip. There's no life in the Gaza Strip. What life can we have in the Gaza Strip? Being with Allah is better. Being with Allah is better. What we see is very hard but we won't surrender, Allah willing. The first to say it are the Martyrs' family. The first to say it are the Martyrs' mothers and fathers... Don't be disturbed by these images. He who was killed this way doesn't feel. By Allah, he does not feel. These are not my words, but the words of our beloved Prophet [Muhammad]: He who is Martyred doesn't feel. Only we suffer by these images. By Allah, [the Martyr] doesn't feel. His soul has ascended to Allah. His soul is with the Lord. His soul is inside a green bird. He is with Allah now. He is in Paradise. Only we suffer by these images... In other cities, in other countries, thousands die in earthquakes, floods, plane crashes, in ferry or shipwrecks, in natural or unnatural disasters. Thousands die. Thousands die but we don't know what their fate is with Allah. But we [in Gaza] are Martyrs. The enemy has killed us and we are Martyrs."
[Al-Aqsa TV (Hamas), July 20, 2014]
PA Minister of Religious Affairs Mahmoud Al-Habbash:
"After prophecy and righteousness there is no status Allah has exalted more than Shahada (Martyrdom)... ''And think not of those who have been killed in Allah's way as dead. Nay, they are alive (and) are provided sustenance from their Lord.'
Allah forbade us to consider them [the Shahids (Martyrs)] as dead or to speak of them as being dead... They went smiling to their deaths... The Shahid has merit with Allah, a merit that no one else has... No one - not even the righteous - yearns to return to this world after death. Only Shahids. Why? Because they see the great honor Allah has prepared for them. One of them aspired to return to this world in order to be killed again, in order to die as a Shahid yet again... Allah spoke with one of them (a Shahid), Jabir ibn Abdullah... After all he saw in Paradise, he wanted to return and be killed [again] in order to taste the pain of death a second time. Abdullah said to Him:

'Lord, then tell those who follow us about what we have found.'

Allah Himself is conveying to us the message from the Shahids. The prophets convey Allah's message and Allah conveys the message of the Shahids. What kindness!

'The Shahid - his sins are forgiven with the first gush of his blood from his wound...

The Shahid advocates on behalf of 70 members of his family, and saves them all from hell. The Shahid lives together with the prophets and the righteous ones.'

When they threatened Yasser Arafat, [he said] 'You threaten me with death?

I yearn to die! I come only to it; I seek only it.'

We will never reach the level of the prophets. We won't. So let us reach the level of the Shahids. I say to you, brothers, as the Prophet [Muhammad] said: 'He who honestly seeks Shahada, Allah will give him the status of the Shahids, even if he dies in his bed.'"
[Official PA TV, Nov. 8, 2013]
PA Minister of Religious Affairs Mahmoud Al-Habbash: "We know for certain that as long as we [adhere] to the truth, we will face challenges and be made a target - as individuals and as groups - we know this for certain. Nonetheless, we are also confident in the words of Allah: 'Say, 'Do you await for us except one of the two best things' (Quran, Sura 9:52, translation Sahih International). What do you expect, enemies, cowards (indistinct word), what do they expect will happen to us? 'One of the two best things.'
Brothers, Allah willing, only one of the two best things will happen to us - victory or Martyrdom (Shahada) - and what a good fate this is, what a good level is this - victory or Martyrdom...
'Say, 'Do you await for us except one of the two best things while we await for you that Allah will afflict you with punishment from Himself or at our hands? So wait; indeed we, along with you, are waiting' (Quran, Sura 9:52, translation Sahih International).
Await, wait a short while, I swear the signs heralding victory are seen on the horizon. I swear in a God, beside whom there is no other God, that the end of the tyranny and the tyrants is near. This occupation and its growths and creations that wish to spread corruption in our land... We tell them all, the occupation and the occupation's instruments and any who serve the occupation: 'Await for us except one of the two best things' - we, Allah willing, [will be] either Martyrs or victors on our land. [...]
Pay attention, it is Allah who says: 'They will not harm you except for [some] annoyance' (Quran, Sura 3:111, translation Sahih International) - it is possible that they will harm you. I say to you, it is possible that they will kill us, it is possible that Allah will sentence us to Martyrdom. It is possible that we will be wounded, it is possible that terrorism will be laid on us - 'They will not harm you except for [some] annoyance' - but in the end, 'and if they fight you, they will show you their backs' and the conclusion - 'then they will not be aided' (Quran, Sura, 3:111, translation, Sahih International). We ask for victory more than we ask for life. We ask for the strengthening of our people in this good and blessed land."
Sunday, July 20, 2014
IDF releases another video showing how Hamas deliberately puts civilian lives in danger.
The IDF has released another
video
which shows how Hamas deliberately puts civilian lives in danger.
The video shows that Hamas hides
weapons
and missile launchers in densely populated areas and sends men, women and children directly into the line of
fire
to be used as human
shields
for terrorists.
Hamas
has openly boasted
about the "success" of its strategy of using civilians as human shields during Operation Protective Edge, and the IDF
has published extensive evidence
of the practice.
By contrast, the IDF has dropped leaflets, sent phone messages, and
issued general warnings
to all civilians within range of upcoming airstrikes to prevent further harm.
The IDF has also
called off attacks
upon realizing that there are innocent civilians in the area or, as shown in the video below, when seeing the terrorist target enter an ambulance.
(Arutz Sheva's North American Desk is keeping you updated until the start of Shabbat in New York. The time posted automatically on all Arutz Sheva articles, however, is Israeli time.)
Al Arabiya News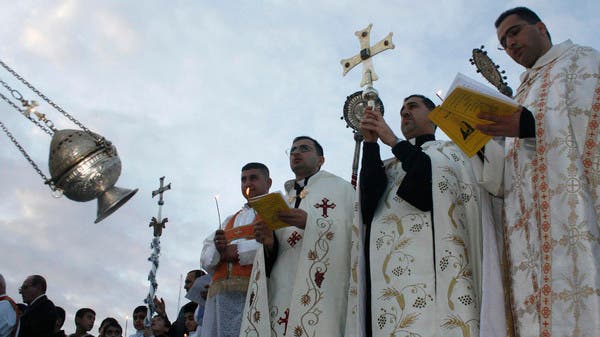 Worshippers attend mass on Christmas Eve at a Christian church in Mosul,
about 390 km (240 miles) north of Baghdad, December 24, 2009. (Reuters)
Christians have fled Iraq's northern city of Mosul en masse before a Saturday deadline issued by the al-Qaeda-inspired Islamic State of Iraq and Syria (ISIS) for them to either convert to Islam, pay tax, leave or be killed.
Al Arabiya correspondent in Iraq Majid Hamid said the deadline set by the jihadist group was 12 p.m. Iraqi time (10 a.m. GMT). Hamid reported that many Christians fled the city on Friday. It is not clear if any remained after the deadline.
Patriarch Louis Sako told AFP on Friday: "Christian families are on their way to Dohuk and Arbil," in the neighboring autonomous region of Kurdistan. "For the first time in the history of Iraq, Mosul is now empty of Christians," he said.
Witnesses said messages telling Christians to leave the city by Saturday were blared through loudspeakers from the city's mosques Friday.
A statement dated from last week and purportedly issued by ISIS that took over the city and large swathes of Iraq during a sweeping offensive last month warned Mosul's Christians they should convert, pay a special tax, leave or face death.
"We were shocked by the distribution of a statement by the Islamic State calling on Christians to convert to Islam, or to pay unspecified tribute, or to leave their city and their homes taking only their clothes and no luggage, and that their homes would then belong to the Islamic State," Sako said.
The patriarch, who is one of the most senior Christian clerics in Iraq, and residents contacted by AFP said Islamic State militants had in recent days been tagging Christian houses with the letter N for "Nassarah", the term by which the Koran refers to Christians.
The statement, which was seen by AFP, said "there will be nothing for them but the sword" if Christians reject those conditions.
[With AFP]


The Dutch government is mindful of the fact that Russia is the country's third largest trade partner, with constantly expanding business ties, especially in natural gas, the paper reported.

According to Malaysia Airlines, of the 298 people aboard MH17, 192 passengers were Dutch nationals.

Dutch Prime Minister Mark Rutte has not been as vocal as United States President Barack Obama on the MH17 disaster, said the newspaper.

Rutte told a press conference yesterday that flight MH17 had been taken down by a surface-to-air missile (SAM).

"It seems as if MH17 was shot down, but we have no exact information on what actually caused the disaster," Rutte was quoted as saying on state television.

Rutte's diplomatic reaction illustrates the small manoeuvring space the Dutch have when it comes to its relations with Russia.

"We are a small country, dependent on our exports," the New York Times quoted Alexander Pechtold as saying.

Pechtold heads D66, a liberal democratic party and is also one of Netherlands' main opposition leaders.

"Unlike the United States, we cannot always react from our moral high ground.

"However, if proven that the Russians are responsible for this terrible event, we cannot look in the opposite direction," he said in the New York Times report.

It reported that prominent Dutch author and historian Geert Mak as saying the Dutch were in a difficult position due to Russian support for the Ukrainian separatists.

Mak said in the report that Russia's support for Ukrainian separatists places the Dutch in a difficult position.

"We have a serious bone to pick with Russia after this horrible incident. Especially if it turns out that Putin (Russian president) armed these men," he said of the Ukrainian separatists in the report.

Mak said in the report that this was also the way for a smaller country to survive and be prosperous.

"Now we are angry. Angry over the fact that Dutchmen have been killed, but at the same time we realise we need our ties with Russia. Activism is a way for us to do what we can," he said in the report.

Russian President Vladimir Putin has blamed Ukraine for the downing of flight MH17, saying the country over which the aircraft crashed should be held responsible.
Having suffered the largest casualty in the Malaysia Airlines flight MH17 crash, the Netherlands is now caught in a dilemma over the prospect that Russian-backed separatists are involved in the tragedy as it counts Russia as a big trading partner, reported the New York Times today.
Siti Fairrah Ashyikin Kamaruddin, or Kiki, the woman driver of the white Peugeot car who is alleged to have bullied an elderly man using a steering lock earlier this week, will be charged in court on Monday.
Pahang CID chief Zakaria Ahmad said police had also recorded statement from the woman last Thursday.
"She was detained at the Kuantan police headquarters at 4pm last Thursday, but was released on police bail on the same day as the police were satisfied with her statement," he told reporters in Temerloh today.
Zakaria said the case was still being investigated under Section 427 of the Penal Code for causing mischief and Section 506 of the same Code for criminal intimidation.
The incident occurred at about 1.10pm last Monday at the parking lot of the Urban Transformation Centre (UTC).
The woman's road rage behaviour against the 68-year-old government pensioner was recorded by members of the public who were at the scene and was uploaded onto several social websites until the video lasting 2.33 minutes became viral and 'trending'.
- Bernama
DAP national vice-chairperson M Kulasegaran said the government continued on matters of grave social concern to oscillate between noble intentions and a weak will at implementing the mechanisms for their transmission from intent to reality.
"This suspension between nobility of intent and an enfeebled will at enforcing good intentions is the reason behind the prevailing public cynicism about politicians," observed the MP for Ipoh Barat.
Speaking at a forum on unilateral conversion of minors in Ipoh earlier this week, the federal legislator said that though seasoned politicians acknowledged that the road to hell is usually paved with good intentions, no lasting policy or initiative aimed at solving recurrent problems could take hold on society without it stemming from a good intention.
"The government had a good intention when it set up the Royal Commission on the management of the police force eleven years ago, but when the panel recommended a viable solution to the problem of custodial deaths, the government wavered on its implementation," observed the lawyer who acts for estranged spouses who have had their children caught in custodial disputes converted to another religion.
Kulasegaran was referring to the Independent Police Complaints and Misconduct Commission (IPCMC) which the RC on making the police force more effective recommended in its report unveiled in March 2005.
He noted that the government also had a good intention in April 2009 when a Cabinet committee recommended the banning of unilateral conversions of minors caught in custodial disputes between estranged parents.
Ignoring custodial battle kids' pain
"A feeble will is the reason why the government has not moved from converting good intention into the legislative mechanisms to prevent unilateral conversions of minors caught in custodial battles," asserted Kulasegaran.
He said this vacillation which takes no heed of the anguish of bereft spouses and deprived children caught in custodial battles is the cause of widespread public cynicism about governance and those engaged in it.
"Politicians fiddle while affected parties fume and file for court action but the judicial process and enforcing agencies are stymied by being stranded in a grey zone where clashing jurisdictions compete for the right to be recognized as the rightful authority," said the MP.
He said enquiries he had raised in Parliament about these interfaith disputes and custodial deaths receive ambiguous replies from the relevant ministries.
These replies, he said, raise the question of who really is determining policy in government – whether it is the Cabinet or government agencies which decree what ministers should say and do.
"Confusion is created and scepticism about government and governance is bred such that matters are left hanging in a grey zone where people are encouraged to become cynical about politicians," said Kulasegaran (
left
).
He said that in the ensuing void, demagogues who represent only a few and some not even anybody rise to fill the gap, spreading their racial and religious tocsins.
"Pretty soon the waters are poisoned as the best of peoples lack conviction while the worst of them are full of passionate intensity. In this atmosphere, anything and everything can happen," mused the four-term parliamentarian.
Alasan syarikat penerbangan lain juga terbang di ruang udara Ukraine tidak boleh di terima kerana keselamatan kita adalah tanggungjawab kita
SEREMBAN – Susulan penerbangan Malaysia Airlines (MAS) MH17 dari Amsterdam ke Kuala Lumpur ditembak jatuh dengan peluru berpandu darat ke udara pada hari Khamis lalu, orang ramai mempersoalkan mengapa syarikat penerbangan nasional itu memilih untuk terbang di zon ruang udara wilayah yang sememangnya diketahui sedang bergolak.
FMT membuat tinjauan di bandar Seremban dan cuba mendapatkan reaksi orang ramai berhubung kejadian yang mengorbankan 298 penumpang dan anak kapal MH17.
Khairul Nizam Kassim, 44, bertanya kenapa MAS ambil risiko dan merentasi zon perang.
"Walaupun menggunakan laluan alternatif yang lebih jauh dan MAS akan rugi dari segi kos penerbangan, tetapi ia akan menjamin keselamatan penumpang.
"Sekarang siapa yang mahu dipertanggungjawabkan? Tiada ada sesiapa yang mahu mengaku menembak MH17.
"Bukankah pencegahan lebih baik?
"Pada bulan April, International Civil Aviation Organisation, telah menasihatkan agar syarikat penerbangan mempertimbangkan laluan alternatif selepas mengenalpasti kemungkinan wujudnya risiko yang serius kepada keselamatan penerbangan awam antarabangsa.
"Apakah MAS tidak peka?
"Malah kalau tidak ada mana-mana pihak memberi amaran pun, sepatutnya secara 'common sense' boleh fikir secara logik, kenapa ambil risiko lalu di ruang udara zon perang? tanya Khairul Nizam.
Ruang udara Ukraine dulu lain, sekarang lain
Khairul Mohamad, 31, pula berkata alasan sudah lama terbang di ruang udara berkenaan tidak boleh diterima.
"Tidak kisah berapa tahun laluan itu telah digunakan. Dulu lain sekarang lain.
"Dulu selamat, kini sejak beberapa bulan Ukraine bergolak dengan perang saudara.
"Maka sudah tentu ianya tidak selamat lagi untuk terbang di ruang udara Ukraine, lebih-lebih lagi di zon perang.
"Alasan kononnya ada banyak lagi syarikat penerbangan lain terbang di ruang udara tersebut tidak boleh di terima kerana keselamatan kita adalah tanggungjawab kita.
"Kalau dah namanya zon perang, pasti akan ada kejadian tembak menembak di sana sini, letup sana letup sini; tapi kitalah yang harus berhati-hati dan jangan lalu di zon perang.
"Pada hari Isnin, Eurocontrol, sebuah badan yang mengkordinasi semua trafik di ruang udara Eropah telah menghantar satu nota rasmi dikenali sebagai Notam, mengulangi amaran tersebut dan menasihatkan dengan tegas agar mengelak dari ruang udara tersebut," jelas Khairul.
Terbang atas zon perang, ibarat serah nyawa
Mohamad Sudhay, 55, pula bertanya kenapa MAS lalu di ruang udara negara sedang berkonflik.
"Perang saudara di Ukraine ini bukan sehari dua, tapi dah berapa bulan.
"Terbang di atas ruang udara negara berperang ini seperti serahkan nyawa macam itu sahaja.
"Walaubagaimanapun saya menasihatkan orang ramai jangan takut penggunakan penerbangan udara.
"Ajal dan maut di tangan tuhan," katanya.
Leong Chee Kong, 48, berharap kerajaan ambil tindakan tegas ke atas pihak yang menyebabkan kesemua 298 penumpang dan anak kapal MH17 terkorban.
"Saya juga harap kerajaan siasat kenapa pada hari tersebut MH17 dikatakan membuat sedikit lencongan daripada laluan asal.
"Apakah pihak berkuasa Ukraine atau Ukraine Air Traffic Control (ATC) telah dimaklumkan terlebih dahulu sebelum lencongan itu di buat? tanya Leong.
A Vanitha Sri, 18, pula berkata pihak yang bertanggungjawab menembak jatuh MH17 dan mengakibatkan orang yang tidak bersalah mati, perlu dihukum.
"Ini sangat kejam. Bayangkan berapa ramai kanak-kanak yang tidak berdosa terkorban begitu sahaja.
"Kenapa mereka (pihak yang menembak MH17) berbuat demikian?
"Macam mana boleh jadi begini?
Pusat peranginan Pulau Tiga mengesahkan menerima maklumat mengenai kumpulan pelawat itu dan telah membuat persediaan untuk menerima ketibaan mereka.
KOTA KINABALU: Seramai 26 daripada 189 rakyat Belanda yang menaiki pesawat MH17 yang terhempas selepas ditembak dengan misil di udara Ukraine pada malam Khamis, sepatutnya sudah berada di Sabah dan Sarawak untuk bercuti.
Penumpang rakyat Belanda itu dikatakan terlebih dulu akan melawat Sarawak.
Lawatan mereka di Sabah adalah untuk mengunjungi hutan di Sukau dan Taman Kinabalu untuk melihat keindahan Gunung Kinabalu.
Pulau Tiga juga adalah antara tempat menarik yang dirancang untuk dilawati sepanjang tiga minggu lawatan mereka di sini.
Pusat peranginan Pulau Tiga mengesahkan menerima maklumat mengenai kumpulan pelawat itu dan telah membuat persediaan untuk menerima ketibaan mereka.
"Antara mereka ialah Peter Essers, 66, isterinya Jolette Nuesink, 60, dan anak anak mereka Emma, 20 dan Valentijin, 17," kata Richard Hii, jurucakap Tropical Adventure Sdn Bhd yang berpusat di Sarawak.
Syarikat itu sepatutnya menguruskan perjalanan mereka ketika berada di sini.
Menurut Richard, mereka sangat sedih kerana tetamu mereka ditimpa tragedi dan berharap sesiapa saja yang bertanggungjawab mengorbankan ramai orang yang tidak bersalah dalam nahas itu dihadapkan ke muka pengadilan.
"Tiada apa-apa yang kita dapat lakukan buat masa ini kecuali mendoakan roh mereka yang terkorban dan kesabaran diri keluarga serta kawan-kawan yang meratapi pemergian mereka," katanya.
Malaysia Airlines has published the full passenger manifest


(Harakah Daily) – PAS Kawasan Masjid Tanah menyatakan rasa sedih dan simpati di atas kejadian yang mengorbankan Ketua Pramugara, Abdul Ghafar Abu Bakar yang bertugas dalam pesawat MAS, MH17 yang dtimpa kemalangan di sempadan Russia-Ukraine.
Yang Dipertua PAS Kawasan Masjid Tanah, Imran Abdul Rahman berkata demikian ketika menyampaikan ucapan takziah kepada ibu Abdul Ghafar, Maimon Sarpan, 74 di rumah beliau di Kampung Seri Tanjung di sini tengah hari tadi
Maimon berkata beliau terkejut menerima berita kejadian tersebut apabila diberitahu oleh anaknya pada tengah malam peristiwa malam itu.
"Anak saya telefon suruh buka TV tengok berita, dia kata Salim terlibat dengan kemalangan tersebut, saya baru nak tidur masa itu"
"Tidak ada apa yang dapat saya katakan, hanya air mata yang mengalir mengenangkan anak saya ini," ujar beliau.
Menurur Maimon, Salim (nama panggilan keluarga untuk Ghafar) merupakan anak yang baik dan sentiasa ingat kepada keluarga.
"Kita mendoakan roh Allahyarham dan semua penumpang muslim lain dicucuri rahmat dan di tempatkan bersama roh para anbia, syuhada dan solihin"
"Kami juga mengharapkan Mak Cik Maimon dan keluarga tabah menghadapi dugaan Allah ini," ujar Imran dengan nada sedih.
Dalam pertemuan itu Maimon menunjukkan gambar-gambar Ghafar dan sentiasa memuji kebaikan anaknya yang terkenal dengan kuat beragama dan sentiasa komited menjaga kebajikan keluarga.
Difahamkan Allahyarham Ghaffar adalah seorang yang berani melawan perintah syarikat agar tidak menghidangkan arak di dalam penerbangan yang diketuainya.
Seorang rakannya Halim Hassan menyatakan Ghafar adalah seorang yang suka solat malam, mengaji dalam penerbangan dan menjadi mutawif (pemandu ibadat haji dan umrah) kawan-kawannya semasa umrah, Halim Hassan menulis perkara itu dalam komuniti Whatsapp Masjid Bukit Indah yang kini disebarkan melalui media sosial.
Menurut rakan-rakannya dari kariah Masjid Bukit Indah itu, selain membuat bantahan kepada MAS tentang penghidangan arak di dalam kapal terbang, Ghafar pernah menulis surat kepada Jabatan Kemajuan Islam Malaysia (Jakim) dan para mufti agar mengeluarkan arak daripada sajian dalam pesawat MAS.
Ghafar juga, kata Halim, pernah meminta pemangku Menteri Pengangkutan Datuk Seri Hishamuddin Hussein agar membenarkan para pramugari beragama Islam untuk memakai tudung semasa bertugas.
HRABOVE, Ukraine — Ukraine and Russian-backed separatists agreed Saturday to set up a security zone around the crash site of a Malaysia Airlines jet to allow the orderly removal of the bodies of the 298 people killed in the shootdown of MH17 over eastern Ukraine two days ago.
The Malaysian airliner — en route from Amsterdam to Kuala Lumpur with 283 passengers and 15 crew members — crashed into rebel-held territory Thursday after being hit by what U.S. officials say was a SA-11 surface-to-air missile. There were no survivors.
In a related development, U.S. Secretary of State John Kerry and Russian Foreign Ministere Sergei Lavrov agreed in a "frank discussion": by phone Saturday that all evidence in the case be turned over to independent, international investigators, the ITAR-TAss News agency reports.
"During the frank discussion, the minister and the secretary, without mincing words, exchanged assessments and arguments and agreed on the main point that it is necessary to ensure an absolutely impartial, independent and open international investigation of the Malaysian plane crash in Ukraine on July 17,"the Russian Foreign Ministry said in a statement."
The International Civil Aviation Organization (ICAO) should play a leading role in the investigation, the statement said.
Lavrov and Kerry agreed that "all evidence, including flight data recorders, should be made available for examination as part of an international investigation and that all necessary conditions should be created on the ground to ensure access for the international team of experts".
In Kiev, Ukrainian Security Service head Valentyn Nalyvaychenko said in televised remarks Saturday that trilateral talks, involving Russia, had agreed on a 7-square-mile security zone "so that Ukraine could fulfill the most important thing — identify the bodies (and) hand them over to relatives," Ukrinform reports.
The announcement of an agreement followed charges by Ukraine that local militia in the restive eastern Ukraine region near the Russian border had removed at least 38 bodies from the crash site near the village of Hrabove.
On a dirt road near the site Saturday morning, separatist officials from the self-proclaimed Donetsk People's Republic's ministry of internal affairs began moving bodies in what appeared to be an unorganized and ad hoc operation.
At one point, about 15 bodies had been laid out on the rural road.
"Experts are removing the bodies," a separatist soldier who identified himself as Commander Ugriumny and seemed to be in charge told reporters. "Where we will move them, we will wait and see."
Until the soldiers arrived in a 10-vehicle caravan, the golden fields in this remote region near the Russian border were virtually empty, except for the decomposing bodies, some still strapped to their airline seats, and wide swaths of plane wreckage. There were no emergency services vehicles, no separatist soldiers.
The militiamen, who began setting up a perimeter, cordoning off the area and putting up tents, scoffed at charges by the Kiev government that bodies were being removed from the scene.
"No one stole any bodies," said Commander Ugriumny. "Or have taken them anywhere."