GAZA CITY (CNN) -- Three artillery shells believed to have been fired by Israeli forces struck near the perimeter of a U.N. school in northern Gaza on Tuesday, killing at least 30 people and wounding 55, a U.N. official said.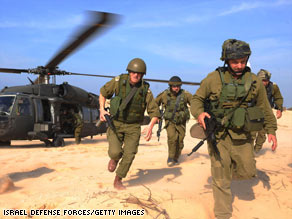 In a handout photo from Israel Defense Forces, troops deploy Tuesday in northern Gaza.
The Israeli military said Hamas militants had fired mortar shells at Israeli forces, prompting return fire, according to its initial investigation.
U.N. Relief and Works Agency Director John Ging said most of the casualties were outside the school in the Jabalya refugee camp.
"It's a very built-up area, so of course it was entirely inevitable that if artillery shells landed in that area there would be a high number of casualties," he said at a U.N. briefing from Gaza City.
Palestinian sources said 44 were killed in the attack.
The Israeli military said it is checking the report. The Israeli government has barred CNN and other news from entering Gaza.
A short time later, another artillery shell struck inside a second U.N. school in Jabalya, but Ging said the boys' prep school was empty at the time.
It was the third Israeli strike affecting a U.N. school in Gaza. Three Palestinian men, all members of the same family, were killed Monday night in Gaza City by a direct hit on an elementary school, the U.N. agency said.
The schools were in use as shelters for civilians fleeing the military operation. The buildings were "clearly marked" with U.N. flags, and the agency said it had given the global-positioning coordinates of all its schools to Israeli authorities.
The U.N. agency said 400 Palestinians were staying in the Asma Elementary School at the time of Monday night's airstrike.
The latest incidents came as Israeli ground forces surrounded densely populated Gaza City after at least 50 airstrikes pounded the region overnight.
Other airstrikes hit the homes of people linked to Hamas, the Islamic militant group that rules Gaza, including the Wadi family in Jabalya, Hamas security sources said. Eight people were killed in that strike. An overnight airstrike hit the Jabalya home of Imad Siam, one of the leaders of Hamas' military wing.
Israel claimed Tuesday to have killed 130 Hamas fighters since beginning a ground offensive at dusk Saturday. An Israeli soldier was killed Tuesday morning in northern Gaza City, the Israeli military said, bringing to six the number of Israeli forces who have died in Gaza since Israel launched its ground incursion.
As Israeli forces encircled Gaza City -- which has a population of about 400,000 -- diplomats turned up the heat for a cease-fire.
U.S. Secretary of State Condoleezza Rice briefed President-elect Barack Obama on Monday about American diplomatic efforts in the conflict, her spokesman said Tuesday.
Rice will confer Tuesday at the United Nations with officials including Palestinian Authority President Mahmoud Abbas, the State Department said.

Abbas plans to present a resolution drafted by the Arab League to the U.N. Security Council. The resolution will call for Israel to stop its offensive in Gaza and for Hamas to cease firing rockets at the Jewish state.
Israeli Prime Minister Ehud Olmert on Monday told French President Nicolas Sarkozy that Israel wanted a "full solution" to the conflict, not just a cease-fire that allowed Hamas to fortify itself, Olmert spokesman Mark Regev said.
"Before the last cease-fire with Hamas began, Hamas had missiles with a range of 20 kilometers," Regev said Tuesday. "By the end of the cease-fire, the range of the missiles grew to 40 kilometers. Israel does not want the next cease-fire to allow them to get missiles with a range of 60 kilometers."
A Hamas rocket penetrated farther than ever before into Israel on Tuesday, landing in the town of Gadera, about 23 miles (36 kilometers) north of the Gaza border, the Israeli military said. On Monday, a rocket hit a kindergarten in Ashdod, about 16 miles (26 kilometers) north of Gaza.
Hamas had fired 30 rockets at Israel by Tuesday afternoon, the Israeli military said. Hamas spokesman Abu Obeida has warned Israel that the militants will continue rocket attacks "for many months" and vowed to strike deeper into Israeli territory.
The humanitarian situation in Gaza has deteriorated. Hundreds of wounded people swarmed into Gaza's largest hospital.
The Israeli military said 80 trucks with humanitarian aid would be allowed to pass into Gaza on Tuesday at the Kerem Shalom crossing.
Before the second school attack, Palestinian medical sources said 23 people were killed Tuesday in Gaza, bringing the Palestinian death toll to 555 since Israel commenced airstrikes December 27.