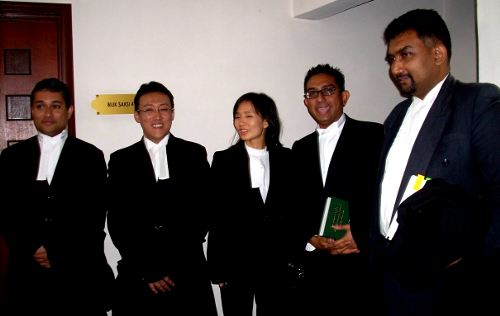 The beaming BN lawyers (from left): Firoz Hussein, Faizul Hilmi, Cheng Mei, Datuk Hafarizam Harun, and Badrul Hishah Photos by KK

And the rejected, dejected PR lawyers (from left): Chan Kok Keong, Augustine Anthony, Tommy Thomas, and Phillip Koh Tong Ngee
The Judge had ruled that the Speaker could only be represented by the state legal adviser and not the PR lawyers.
From The Edge website:
2.55pm: Perak speaker sent letter to JC Ridwan Ibrahim stating he has not authorised state legal advisor Ahmad Kamal to act on his behalf

2.15pm: Lawyers for Perak Menteri Besar Datuk Dr Zambry Abdul Kadir are already at the Ipoh High Court studying legal points ahead of a hearing for an application of injunction to stop further meetings of the Perak state assembly. The hearing in the chambers of JC Ridwan Ibrahim is scheduled to start at 2.30pm.
Lawyer Tommy Thomas reveals what transpired in the Judges chambers this morning. Check out the Aliran website here.