LOS ANGELES, California (CNN) -- Search warrants filed Thursday in court in Clark County, Nevada, and carried out at properties of Michael Jackson's doctor imply that investigators looking into his death believe the singer was a drug addict.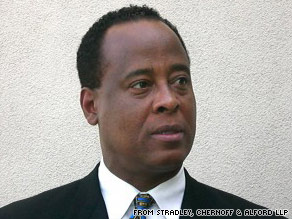 Dr. Conrad Murray was with Michael Jackson on the day that he died.
The warrants, signed by District Judge Timothy Williams and given to CNN by Las Vegas affiliate KTNV, say "there is probable cause to believe" that searches would uncover evidence at the Las Vegas home and office of Dr. Conrad Murray of excessive prescribing, prescribing to an addict, excess treatment or prescribing, unprofessional conduct, prescribing to or treating an addict and manslaughter.
They cite "probable cause to believe" that the premises contained "records, shipping orders, distribution lists, use records relating to the purchase, transfer ordering, delivery and storage of propofol (Diprivan)."
A source told CNN on Monday that the Texas-based cardiologist allegedly gave Jackson the anesthetic propofol -- commonly known by the brand name Diprivan -- in the 24 hours before he died.
A source involved in the investigation into Jackson's death has told CNN that investigators found numerous bottles of prescription drugs in his $100,000-a-month rented mansion in Holmby Hills, California.
The items taken from Murray's home included copies of his computer and cell phone hard drives. They were to be turned over to the Los Angeles Police Department, which is leading the investigation into Jackson's death last month at age 50.
Murray is the central focus of a federal investigation into the singer's death, a law enforcement official told CNN on Wednesday.
Authorities have subpoenaed the records of various doctors who have treated Jackson over the years, but "Dr. [Conrad] Murray is the only one we're looking at," the federal law enforcement official said.
The disclosures were among several developments Wednesday in a story that continues to gather steam more than a month after the death of the pop icon on June 25.
Other recent developments:
• Jackson's personal chef, Kai Chase, recounted the day the singer died and how Jackson's children and his staff gathered in a circle to pray for him.
• Jackson's father, Joe, acknowledged that a 25-year-old Norwegian performer is Jackson's son -- even as the man himself denied the relationship in various news reports.
• Jackson's estate is worth at least $200 million, a source with knowledge of the estate's dealings told CNN.
Murray and the drug investigation
Despite the comment from the federal law enforcement official, Murray's lawyer does not think an arrest is imminent because autopsy results into Jackson's death are pending.
Police have interviewed Murray twice since Jackson's death. Murray's lawyer, Ed Chernoff, said his client is ready to talk to investigators again, but a meeting has not been scheduled.
Murray has consistently denied he prescribed or administered anything that could have killed Jackson.

Watch a profile of Murray »
On Tuesday, investigators searched Murray's home and office in Las Vegas, Nevada.
Chernoff said he won't comment on "rumors, innuendo or unnamed sources."
Meanwhile, Murray failed to make a payment of $15,000 on his $1.65 million home in January and has racked up debt since.
If he does not make a payment by mid-August, he will lose his home to foreclosure, a spokeswoman confirmed.
"He was to be paid $150,000 a month by Michael Jackson," the spokeswoman said. "He was not [paid] by AEG, the tour promoter, or Jackson, for the two months he worked for them. So he's low on money."
Murray has been beset by financial difficulties since graduating from medical school.
He filed for Chapter 7 bankruptcy protection in 1992 and accumulated $44,663 in state tax liens in Arizona and California from 1993 until 2003, according to court documents.
He has also has been hit with several judgments related to unpaid bills, child support payments and defaults on education loans.
On Wednesday, CNN learned Murray was arrested on a charge of domestic violence disorderly conduct in Tucson, Arizona, in 1994.
Murray's then-girlfriend accused him of having an affair and threw something at him, Tucson law enforcement officials said. Murray allegedly pushed the woman down.
The doctor was acquitted five months after the incident.
The day Jackson died
The first sign that something was amiss on the day Jackson died came shortly after noon, said Jackson's chef, Kai Chase, in a first-person account to "Larry King Live."
Murray would usually come down to the kitchen about 10 a.m. to get Jackson something to eat or drink. But that day -- June 25 -- he didn't.
"I thought maybe Mr. Jackson's rehearsal time had been pushed back and he was sleeping late," Chase said.
About five to 10 minutes after noon, Murray ran down the stairs, screaming, "Hurry, get Prince (Jackson's eldest son), get security," Chase recounted.
"Clearly, something was very wrong," she said. "I instantly felt the energy in the house change. It was normally a warm, happy home. In an instant, that feeling was gone. The mood became very unsettling."
Security guards rushed by; the housekeepers cried. Paris, Jackson's 11-year-old daughter, was screaming, "Daddy, daddy," Chase said.
"This was their father -- the only person they have in the world. We weren't told what was going on, but you could feel things were very bad," Chase said.
"We eventually gathered everyone together in a circle -- the three kids, all the staff -- and we prayed: 'God, please let everything be OK with Mr. Jackson.' "
An hour later, security officials told employees to leave the house, saying Jackson had been hospitalized.
"We still didn't know what was happening, but the sight of a stretcher in the foyer of the house earlier told me things were not good," Chase said. "Still, I didn't learn of Mr. Jackson's death until later that day on the radio."
Chase said Jackson was a great father, letting the children stay up late, watching movies and eating popcorn, but ensuring their days were fairly regimented, with time set aside for study, theater and dance.
"The house was always filled with games, laughter and music," she said. "This makes what happened on June 25th all the more difficult."
Chase is appearing on CNN's "Larry King Live" Thursday to talk more about her experiences as Jackson's chef.
Joe Jackson: Jackson had another son
In an interview with the Web site NewsOne, Jackson's father, Joe, said the singer had another son, a 25-year-old Norwegian performer, Omer Bhatti.
"Yes, I knew he had another son. Yes, I did," Joe Jackson said. "He looks like a Jackson, he acts like a Jackson, he can dance like a Jackson. This boy is a fantastic dancer. As a matter of fact, he teaches dancing."
At Jackson's memorial service this month, Bhatti was seated in the front row between the pop star's father and sister.
CNN has been unable to confirm the relationship. And Bhatti has told various media outlets that he and Jackson were close friends.
Battle brews over Jackson's will
Jackson's estate is worth at least $200 million and could amount to much more, an informed source told CNN on Wednesday.
Earlier this month, a Los Angeles Superior Court judge granted control of Jackson's assets to the executors of his will: John Branca, Jackson's longtime personal attorney, and John McClain, a music industry executive and longtime friend.
A third executor, accountant Barry Siegel, recused himself. Jackson's mother, Katherine, now wants the judge to install her in the open slot.
The judge has scheduled a hearing on Monday.
"The question is, will all this get resolved on Monday, when there is a hearing?" said CNN legal analyst Lisa Bloom. "Or will this blow up into a huge dispute between Katherine and the executors?"