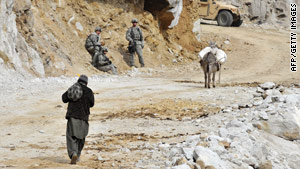 Kabul, Afghanistan (CNN) -- Ten people -- six Germans, two Americans and two Afghans -- were killed by gunmen in Afghanistan about 15 days ago, police said Saturday.
The gunmen stopped the victims on a road, took their belongings and shot them one by one, said Aqa Nwor Kentoz, police chief of Badakhshan province.
One Afghan was released because he was reciting excerpts from the Quran, Kentoz said.
The foreigners were believed to have been doctors, according to the police chief. The group of 11 was traveling in three vehicles from Panjshir province to Badakhshan province.
News about the deaths trickled from a local shepherd, who discovered the bodies on Wednesday, to villagers and then to Afghan police.
The International Assistance Mission issued a statement saying the victims were "likely" members of the group's eye camp team.
"The team had been in Nuristan at the invitation of communities there," the international mission said.
"After having completed their medical work, the team was returning to Kabul. At this stage we do not have many details but our thoughts and prayers are with the families and friends of those who are presumed killed. ... Some of the foreigners have worked alongside the Afghan people for decades."