(CNN)
-- Another night of NATO airstrikes on the Libyan capital began late Thursday, with a tribal site near central Tripoli the target of the latest attacks, a Libyan official said.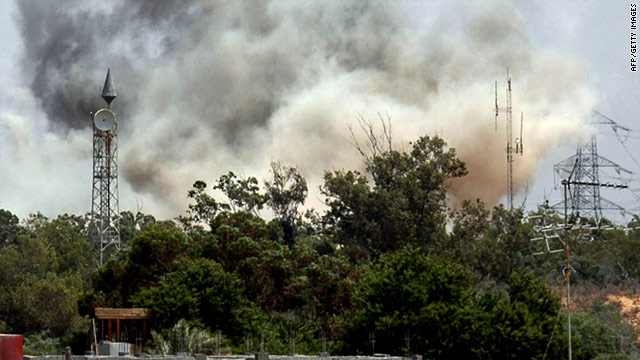 Five explosions, most large enough to shake buildings some distance away, struck Tripoli shortly before 11:30 p.m. (5:30 p.m. ET). The Libyan official, who spoke on condition of anonymity, said the target was the tribal compound at Bab Al-Azizya, about 2 kilometers (1.3 miles) from the center of Tripoli.
CNN could not independently confirm the report.
The site is a former military base now used to welcome tribal visitors to Tripoli, offering them guest houses during their stay, the official said. It has been used as a center for people volunteering to support Libyan authorities since the revolt against longtime strongman Moammar Gadhafi erupted in February.
NATO began bombing Libya on March 31, under a U.N. mandate to protect civilians during the fighting between government forces and rebels who have seized most of eastern Libya.
NATO member Spain said Thursday that Libya had sent a message to Madrid and other European capitals, listing "a series of proposals that could lead to a cease-fire," but the allies have so far rebuffed earlier Libyan proposals for an end to the fighting.